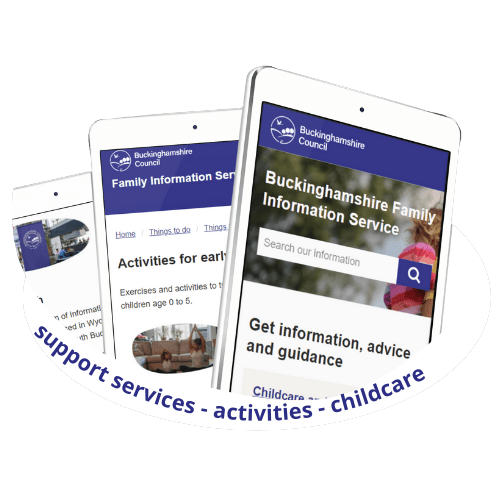 The new Family Information Service website – support for you…
The Buckinghamshire SEND Local Offer brings together a wealth of information about SEND provision across the county for children and young people aged 0-25 years.  It has been developed with parents, carers, young people and professionals and input from all these people helps us to keep it up to date and relevant.
Buckinghamshire's Family Information Service has a brand-new website and directory making it even easier for families, parents to be, children and young people aged 0-19 (or up to 25 with a special educational need or disability) to find local support, activities and childcare. The new website not only has a new look and feel but lots of the latest information from the team and experts within the council.
Head over to https://familyinfo.buckinghamshire.gov.uk/ to take a look and find:
support and inclusive activities if your child has SEND (the SEND Local Offer)
support available to help with issues affecting your family
what's on at family centres
things to do and holiday activities
childcare and early years providers
Follow Bucks Local Offer: https://www.facebook.com/BucksLocalOffer  on Facebook and/or join our private Bucks Local Offer and SEND group https://www.facebook.com/groups/1911808749142746