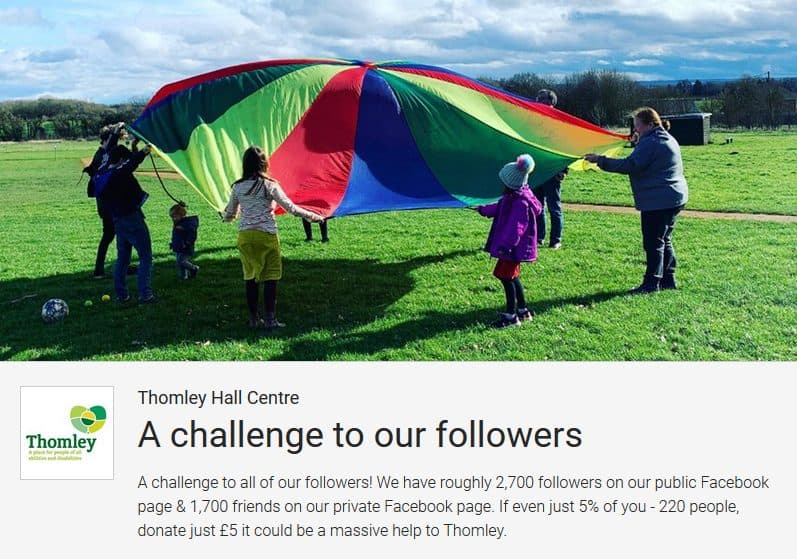 A challenge to our online followers!
A challenge to all of our online followers!
We have roughly 2,700 followers on our public Facebook page and 1,700 friends on our private Facebook page here is a challenge to all of our online followers!
If we could get even just 5% of you – 220 people, to donate just £5 it could be a massive help to Thomley with our general running costs and keeping Thomley ticking whilst no one is able to visit. This could generate over £1,000!
Here is what Thomley means to one of our visitors:
"Thomley is a lovely environment and non-judgemental which makes it such a delightful place to visit for all children with all types of disabilities and their siblings and parents too.
Now that our son is away at a weekly residential he visits less often but when we do, we travel an hour to Thomley we really enjoy what it has to offer. Its such a safe and secure place…the playground is amazing and so is the huge wonderful sensory room and craft room. He gets a lot out of coming and seeing the usual familiar faces who are just so fantastic with all of the children of all ages and a tremendous greeting when we arrive after a long complicated journey and step into this amazing world of Thomley a world away from reality.
Without Thomley a lot of parents/carers would really struggle to leave the home and find somewhere they can feel so calm and unfrazzled for the whole day.
Thomley is so great at getting the children involved in all activities, there are always plenty of helpers around to step in if there is a problem or a child becomes anxious. Our son loves the craft room and explores so much of the sensory aspect of the art room too plus the sensory room itself which has an amazing selection of sensory toys, lights, ball pool etc.
We feel totally included in this environment at Thomley whereas in so many other places we have visited he can be excluded right from the start just because he finds it hard to communicate his feelings and explain what he wants to do. Thomley just is so relaxing and gives us as a family a true break for the day whilst meeting other parents in the same position and chatting as always to the wonderful committed staff who just cant be thanked enough, they always go that extra mile to make us feel so welcome".
A challenge to our online followers – Can you be a part of that 5%? Please donate just £5 and SHARE this with as many of your friends as possible, thank you!

For more fundraising ideas look here.