At Thomley my son was able to ride on the flat bike tracks, taking his time and as I sat under the willow den watching him, he was able to gain his confidence and most importantly a bit more independence from me .When he came back to where I was sitting he had the biggest smile on his face, I told him I was so proud of how he rode around the track all by himself and he just beamed from ear to ear. My son had the opportunity here to grow in confidence and I thank you from the bottom of my heart so much for this.
Thomley brought up a range of emotions I have never laughed so much with my child. The visit on Thursday, I feel has brought me closer to my child since his diagnosis 2 years ago. It has allowed me to play and have fun too with my son again and also be child like myself.  Caring for a child with Autism has at times been exhausting and challenging, dealing with schools and people and families that don't understand, while coming to terms with his autism too.  I was able to just be myself and RELAX FINALLY.
We love coming to Thomley – even though it's a long way. It's one of only a few places where we can relax and not worry about constantly watching our daughter and other people's reaction to her. It's refreshing to be somewhere where everyone understands.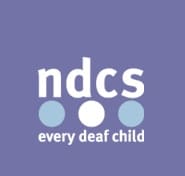 Thomley is amazing! Having organised events for children with complex needs for over 10 years I was blown away by the facilities at Thomley. All of our children and young people had an amazing time. The facilities are all fully accessible and the staff's CAN DO attitude made the whole event run really smoothly. I would definitely recommend Thomley to other organisations, parents and carer's who are looking for activities for children with complex needs. We just wish there similar centres across the rest of the UK as this is just amazing!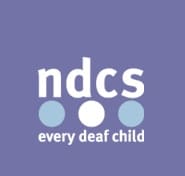 From the first pre-event visit, to the event itself, it has been an absolute pleasure to work with all the staff at Thomley. Queries have been answered promptly and with a friendly response, which made the organising of our event so much easier. Our group included deaf and hearing children aged 3-15 years, with different additional complex needs, and the facilities on-site met all children's individual needs. The staff are amazing, and have a great rapport with children and staff.
Our weekend was a great success and the facilities at Thomley, the staff and their attitudes were key elements to making it the success it was. Thank you Thomley – you are amazing, and we look forward to coming back soon!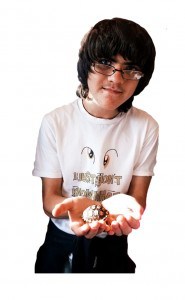 I have a 14yr old son who has a diagnosis of autistic spectrum disorder, ADHD and Tourette's syndrome. He attends a special needs school which caters for the whole of Oxfordshire so he doesn't know any other teenagers locally, this means life for Calvin socially is very difficult and isolating. He spends much of his time alone on his computer.
Having the teenage provision at Thomley has made a huge difference, increasing his confidence and self-esteem and allowing him the chance to socialise in an environment where he is not judged or made fun of and where he can truly be his unique and quirky self. Calvin has made a few friends that he regularly likes to meet up with at Thomley on Saturdays and during the school holidays. He enjoys spending time in the teenage den discussing and playing computer games or just chatting with people his own age. The teenage planner has given him the chance to try new activities and learn new skills including making sushi, which has confirmed his belief that sushi shouldn't be seen or eaten!!
I love the freedom and independence Calvin can have around the centre knowing that he is safe and nobody will be judging him or me as a parent. Thomley is essential for mine and my family's sanity. When I am at Thomley it feels like a weight has lifted off my shoulders. I don't have to spend time excusing my son's behaviour to other parents as we are all in similar positions. Thomley is a place where I have built up a valuable network of friends that understand the challenges I face. A cup of tea and a good laugh or a cry provide essential support.
My daughter and her friends regularly request to come to Thomley so they can play and take part in activities, my daughter really loves the fact that she is seen as an individual and not just Calvin's sister.
The youth group on a Thursday evening held in conjunction with Barnardo's provides two hours of valuable respite where I can spend quality time with his sister. Calvin only agrees to go to the youth group because it is held at Thomley and is supported by Thomley staff that he knows well and feels safe with. The youth worker provides interesting activities and incorporates interests that he has including all the latest crazes.
Thomley has a wonderful feel about it, a community feel. At other places I feel on edge, that people are looking and commenting. Here it feels friendly, our children are accepted, and no one comments or is shocked. I don't feel on guard, or that I have to apologise for my child's disability. It is nice to meet other parents, to share experiences. People are friendly and helpful, both parents and staff. Nothing is too much trouble, things are explained and you can ask for help.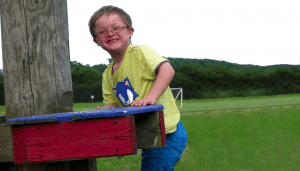 From my very first trip to Thomley with George nearly 9 years ago I knew it was going to be a special place in our lives. There is just nowhere else in the world we can go where we are made to feel so welcome and so accepted and where everything is designed specifically to fit whatever additional needs we happen to turn up with.
Trying to express in words quite how much of a lifeline Thomley is to my family is virtually impossible, but when I decided I wanted to do something to mark my 40th birthday, raising money for Thomley was literally the only thing that came to mind!
If you are reading this as a visitor to our event, welcome! We hope you enjoy the atmosphere and the live music. Please spend some time by the track cheering our walkers on and encouraging them through their 24 hour marathon. Please also support our stallholders and consider making a donation in one of the buckets you will find on the main gate or in our admin tent on the field.
If you are one of our walkers this weekend, thank you for meeting this incredible challenge. We hope you enjoy yourselves and get a sense of the grit and determination shown by so many of the children and adults who use this centre on a weekly basis. Thank you for all your hard work in the run up to the event securing sponsorship and raising such a fabulous amount for Thomley.
It has been quite a journey over the past 14 months of planning to reach Thomley 24 this weekend. A journey that started with me approaching my main supporters; my best friend (the lady who literally gives me the strength to keep going some days) Becky Adams and some of the key staff at Thomley to see what their reaction would be to a 24 hour sponsored relay walk around the field! When no-one waivered in their enthusiasm for the idea, we all got our heads together to see what we could achieve. The results have blown me away over the past few months. We are so very grateful to an enormous range of people who have donated time, energy and expertise to make it all happen. I have also been moved to see how many of the helpers and walkers are people who are motivated, just as I am, by my fantastic children, whose infectious love for life will be powering some of the footsteps over the next 24 hours.
There is a list of thank you's on the back of this programme because to mention them individually here would take the whole page, but suffice to say we literally couldn't have put an event of this scale on without you, thank you from the bottom of my heart for helping to make this little birthday wish of mine come true. Thank you especially to Richard and Keith for allowing Becky and I to do this straight after we had promised you we were going to take a break from organising things and last, but by no means least, to Harriet and Becky, thank you for your unwaivering support, your encouragement has meant so much.
Every step taken on the track this weekend will help more families enjoy all that this incredible place has to offer. So, whether you are a visitor, a walker, volunteer helping to make it happen, thank you!
Carole (aged 40 years and 1 day!)
For the last 4 years I've been coming to Thomley with Chinnor Autism Base. We visit every week with our class of children. They look forward to the visits all week. Some do art, some go on the bikes, some use the sensory room. It's perfect for us as there is something for everyone.
Thomley is wonderful, it is just so amazing to go somewhere that my daughter  is celebrated and encouraged, and what she can't do is just no problem. We both felt welcome and she is always asking when we are going again.