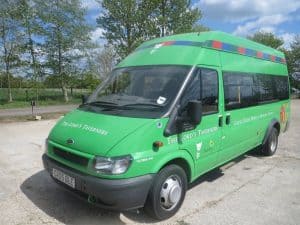 We are quite aware that being out in the sticks can be an issue for some families, groups and schools.
We have a fantastic 16 seater minibus which we can come and pick you up in, and we keep this as cheap as we can by only asking you to cover the cost of the trip.
If you struggle with transport or would like to bring a group of people here, please get in touch and arrange for us to pick you up. We are happy to pick up from many different areas and the bus is fully accessible for wheelchair users.
For more information or to book, contact reception on: bookings@thomley.org.uk or 01844 338380