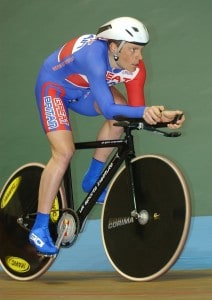 "When I visited Thomley to open their cycle track, I was so inspired with the work that is being done there. Thomley gives young people with disabilities and their families a chance to relax and to have fun. Even when the centre is full, everyone is an individual and all needs are catered for".
Bryan Steel is an English former professional racing cyclist. He represented Great Britain at four Summer Olympics. Bryan has been one of Britain's top track riders for over a decade achieving four World Championship silvers, a World Championship bronze, a Commonwealth Games Silver and an Olympic Bronze. Riding in his fourth Olympics in Athens in 2004, Bryan improved on the Bronze medal from Sydney to win silver in the Team Pursuit.
In his youth Bryan was classed as a disaffected child, not attending school for various reasons and eventually getting into trouble at school, with his family and the police. When he started secondary school Bryan was overweight and bullied and it was later discovered that he was dyslexic. Through his brother, Bryan found cycling. This was something that he was good at and helped focus his life, bringing it back on track and changing it for the better. Within 4 years Bryan was selected for the National Cycling team of which he remained a member until he retired in 2004. He now works for several Charities and Associations, including the role of Sports Ambassador to Thomley.