Donating to Thomley in memory of someone special to you, is a wonderful way to honour their life whilst supporting disabled people and their families.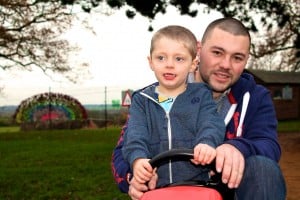 You might consider asking for donations in lieu of flowers, or having a collection at the funeral, or you may wish to create a webpage as a tribute to your loved one and as means of raising online donations in their memory.
If you would like to talk to us about making a donation to Thomley, call 01844 338380 or email fundraising@thomley.org.uk

Kai Smith – We are very sad to say goodbye to Kai Smith who died on 18th October from an epilepsy-related seizure at only twelve years of age. This sadness is not just for his family, but for all of us at Thomley who got to know the gorgeous smiley boy we knew as Kai. We will miss him immensely, but he leaves us with many happy memories which we would like to share here with you.
Peter Rowsell – Our former landlord who shall always be remembered with great fondness by Trustees, staff and families. Thomley owes its existence to the extreme generosity and vision of Peter and his dear wife Grizelda who lived on the farm since the 1960's. Over the past 50 years, Peter and Grizelda have availed this peaceful corner of countryside for disadvantaged children. Sadly Peter passed away on 23rd December 2012 leaving behind his wife Grizelda and three children Claire, Tim and Juliet. We hope that the flourishing centre will remain a legacy of both Peter and Grizelda's charitable spirit long into the future. Peter, you will be missed.
Phil Coles – the late husband of our founding trustee Wendi. Sadly, Phil Coles passed away on Friday 17th February 2012. Phil was a pillar of support to his wife Wendi who has committed the past 10 years to Thomley. Due to the limited provision Wendi and Phil found available for their son Matthew who has autism and severe epilepsy, Wendi became one of the founding Trustees of the charity. Throughout Wendi's career, she has tirelessly supported parents of children and young adults with learning disabilities.
Sheila Coates – founding trustee of Thomley. We remember Sheila Coates, who passed away on Wednesday 27th October 2010. Sheila was one of the founding Trustees of Thomley and, together with other Trustees, played an active role in setting up the centre, promoting its development and supporting its valuable ethos. In Sheila's words "I am committed to the concept of providing equal access for children and young people to experience adventure, opportunity, freedom and managed risk".
Since the early 70′s Sheila worked with children and families in Oxfordshire, focusing on Autism and the Autistic Spectrum, mainly in the education field. Sheila took great interest in raising awareness about autism and providing practical support to families. She was also a Trustee of 'Children in Touch', which supports the therapeutic education and development of autistic children and supports families affected by autism in Oxfordshire.
Sheila had a very personal approach and will be missed by very many people. Thomley is a legacy of Sheila's efforts to support disabled children and we will strive to continue her ethos through our work.